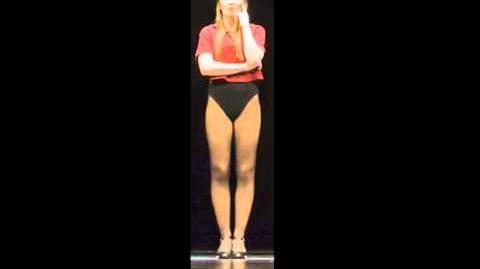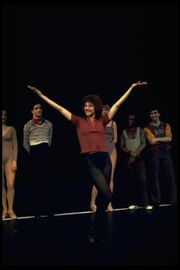 Bebe Benzenheimer is one of the auditioners in A Chorus Line who makes it past the initial cut. She was originally portrayed on Broadway by Nancy Lane, and her background is drawn from Kelly Bishop and Michon Peacock's life stories.
Background
[
]
In the original script, Bebe was born on June 9, 1949 in Boston, Massechusets, which would make her 26 at the time of the play's premiere. The revised script simply states her age as 22. Her last name purportedly means she is Jewish. She is typically portrayed by a dark-haired actress with unconventional looks, and the usual costume is a dark red polo shirt over a black leotard with black tights or legwarmers, and black heeled shoes.
Early Life/Family
[
]
Bebe talks about her mother during "At The Ballet". Around the age of 8 or 9 she began having self-esteem issues due to her mother telling her she would look "different...with a personal flair" when she grew up, leading to Bebe's resentment. It was this time she found solace in ballet where everyone could be beautiful.
During her adolescence, she went through a flurry of crushes that included singer Robert Goulet, actor Steve McQueen, and dancer Rudolf Nureyev.
Bebe makes no mention of a father, siblings, spouse, or children.
The Audition
[
]
Bebe's number during "I Hope I Get It" is 37. She reveals herself to be a newcomer to the Broadway scene and very eager to please, although by the end of the day she makes mention of a headache. When Zach asks the dancers what they would do if they couldn't dance anymore, she is the first to answer with "Kill yourself," though it is not known if this is sarcasm. Bebe also expresses anxiety over the current declining state of getting work in Broadway. She is not chosen as one of the final eight.
Movie
[
]
The 1985 movie adapation of A Chorus Line drastically altered Bebe, among other characters. As portrayed by Michelle Johnston, her full name is Beatrice Ann Benson, she is 19 years old from Washington, DC, and is a tall hardbodied blonde. During the opening number, Larry singles her out to demonstrate a dance move she pulls off expertly. She retains her verse during "At The Ballet", but her lines from "The Montage" are removed with the elimination of that number. Near the end of the movie, Bebe reveals she suffered a breakdown after a previous audition and just recently got out of the hospital. She is chosen as one of the final eight over Judy.