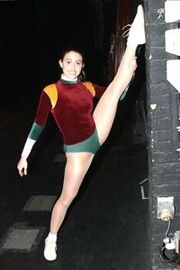 Diana Morales is one of the auditioners in A Chorus Line who makes it past the initial cut. She was originally portrayed on Broadway by Priscilla Lopez (who was nominated for a Best Supporting Actress Tony for the role) and is partially based on Lopez's own life.
Background
[
]
In the original version of the script, Diana states she was born in the Bronx on "six-ten-forty-eight", which would make her 27 at the time of the play's premiere. In the revised script the birth year is left out. The typical costume is a gold and maroon baseball shirt over a green leotard and white sneakers. She wants to be a actress
Early Life/Family
[
]
Diana states her love of dancing as a natural part of being Puerto Rican. During the "Mother" section of The Montage she mentions her own mother was usually in the kitchen cooking (father/any siblings not specifically named). In her teens she briefly attended the High School of Performing Arts, but was humiliated by her classmates and teacher Mr. Karp when she was unable to understand method acting. Some months after she switched classes Mr. Karp died, and she was surprised at her lack of sympathy. Despite this, Diana is caring towards her friendship with Paul.
The Audition
[
]
Diana's number during "I Hope I Get It" is 2. She stands by Paul in the lineup in deferrence to their friendship and offering support. Zach initially asks her to reveal more about her life instead of Mike, but she is too nervous. During the Alternatives discussion, she is honest about the fact there is little security in dancing but is not giving it up at this point as it is what she does for love. After a false alarm, Diana is one of the final eight chosen.
The Movie
[
]
Diana was portrayed in the 1985 movie adaptation of A Chorus Line by Yamil Borges. During the opening number there is a brief exchange between her and Paul which shows their friendship and foreshadows his bad knee. She gives her birthdate as "10-4-62", which would make her 23 at the time of the movie's premiere. Although the majority of The Montage was eliminated as a number, Diana still sings "Nothing" after Val's "Dance, Ten; Looks, Three" solo. She does not perform "What I Did For Love," the song was transferred to Cassie. She remains one of the final eight chosen after the same false alarm.