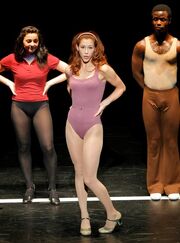 Judy Turner is one of the auditioners in A Chorus Line who makes it past the initial cut. Originally portrayed on Broadway by Patricia Garland, much background is drawn from her and her sister Jacki's life stories.
Background
[
]
Judy states she was born in El Paso, Texas, on July 21, 1947, which would make her 28 at the time of the play's premiere. In the revised script she is 26. Judy is usually played by a tall, thin, redheaded actress, although there are alternate lines in case otherwise. The typical costume is a purple square cut leotard with a thin belt and t-strap heels.
Early Life/Family
[
]
Judy mostly talks about her family during "The Montage". She has a sister she describes as "a little brat" and even once shaved her head (though the motivations are unknown). Her mother would embarass her by picking her up from school while still wearing enormous hair curlers (this shows that her mother probably didn't care about her portrayal to the outside world), and her father enjoyed watching her dance. At some point her father lost his job and the family relocated to St. Louis, Missouri.
At some point during her adolescence Judy recalls seeing her FIRST dead body and at 15 attempted suicide after learning auditions for The Ted Mack Amateur Hour had already passed through town. She also confesses to practicing kissing with a female friend. She makes no mention of a spouse or children.
The Audition
[
]
Judy's number during "I Hope I Get It" is 23, although she forgets it initially. Throughout much of the show she comes off as nervous and scatterbrained, though not as much as Kristine. During the Alternatives scene, she admits she wants to be more than just "the second girl from the end" and idolizes Gwen Verdon. She is one of the final eight chosen.
The Movie
[
]
Judy's character was drastically altered in the 1985 movie adapation of A Chorus Line. As played by Janet Jones, her last name is instead Monroe, she is 22, and comes off as flirtatious and constantly laughing at her own jokes. Although "The Montage" was eliminated as a number, her remarks about her sister, the dead body, and practice kissing can be briefly heard. She is not chosen as one of the final eight, with Bebe taking her place.