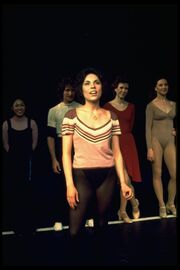 Maggie Winslow is one of the auditioners in A Chorus Line who makes it past the inital cut. She was originally portrayed by Kay Cole on Broadway, and her background is largely drawn from Donna McKechnie's life story. Her character is known for requiring actresses to be able to belt a high E.
Background
[
]
In the original version of the script, Maggie states her full birthdate and place as "San Mateo, California on a Thursday evening at 10:40 PM, August 17, 1950", which would make her 24 at the time of the play's premiere. In the revised script the birth year is left out and she states her age as 25. She also uses the aliases of Margaret, Margie, and Peggy. Her usual costume is a pink v-necked top over a black leotard.
Early Life/Family
[
]
Much of Maggie's family life is talked about during "At The Ballet." Her parents supposedly had her to fix their strained marriage but it didn't work, leaving her to be raised by her mother and grandmother. She would dance around her living room with her arms raised as if dancing with her father, who she imagined as "an Indian chief". In the ballet world she found solace that "someone's always there."
During her adolescence, she was a physical late-bloomer, her mother would often go away, and she was able to graduate high school.
Maggie makes no mention if her mother remarried, nor of any siblings, spouse, or children.
In early workshops of A Chorus Line, Maggie was the character returning from an unsuccessful stint in Hollywood until the Cassie character was created.
The Audition
[
]
Maggie's number during "I Hope I Get It" is 9. She stands next to Don in the lineup and they appear very friendly and communicative with each other. By the end of the day, she feels unable to keep up her professional smile. During the Alternatives discussion, she confesses that she can't think of anything else she'd rather do besides dancing, and still gives herself a time limit. She is not chosen as one of the final eight.
The Movie
[
]
As portrayed by Pam Klinger (who also played her on Broadway), Maggie is one of the few characters not drastically altered in the 1985 movie adaptation of A Chorus Line. Her introduction is verbatim except for giving her birth year as 1965, which would make her 20 at the time of the movie's premiere. During her monologue in "At The Ballet", she states her birth father at least stayed "a few months" before leaving. With the elimination of "The Montage" her solo lines are removed. She is still not chosen as one of the final eight.