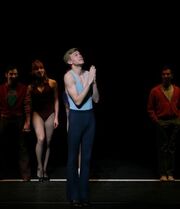 Mark Anthony is one of the auditioners in A Chorus Line who makes it past the initial cut. He was originally portrayed on Broadway by Rick Mason, and based on incidents from Michael Bennett and Steve Anthony's lives.
Background
[
]
Mark's full real name is Mark Philip Lawrence Tabori. He is from Tempe, Arizona, and is 20, which woud make him born in 1955 at the time of the play's premiere. The usual costume is a light blue tank top and dark blue dance pants.
Early Life/Family
[
]
Mark doesn't talk about his early childhood, but the beginnings of his adolescence are discussed in The Montage. At age 11 he discovered a medical textbook in his father's library and was able to diagnose his own appendicitis. At 13 he misdiagnosed his first wet dream as the symptoms of gonorrhea, but the priest at confession was able to correct him. Mark also enjoyed reading the then-scandalous novel Peyton Place. No siblings are mentioned.
The Audition
[
]
Mark's number during "I Hope I Get It" is 63. He stands by Val in the lineup and appears smitten by her. He has not gotten into a chorus yet and is very eager to please. When Paul injures his leg, Mark is the first to get a water glass for him. He is one of the final eight chosen.
The Movie
[
]
Mark was portrayed in the 1985 movie adaption of A Chorus Line by Michael Blevins. His introduction is verbatim except for the exclusion of the "Lawerence" and is he 17. Although The Montage was eliminated as a number, he is still able to tell his story about the medical book and gonorrhea dilemma. He remains one of the final eight chosen.