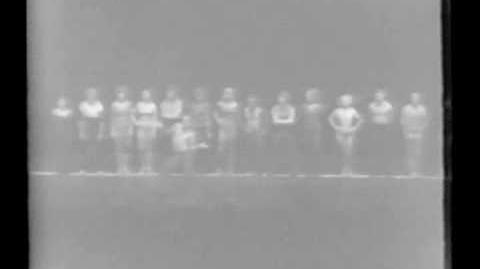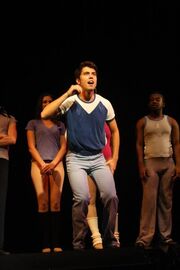 Mike Costa is one of the auditioners in A Chorus Line who makes it past the initial cut. He was originally portrayed on Broadway by Wayne Cilento and based on Cilento and Sammy Williams' life stories.
Background
[
]
Mike's full last name is Costafalone and he is from Trenton, New Jersey. In the original script he states was born on July 9, 1951, which would make him 24 at the time of the play's premiere. In the revised script he is born on the Fourth of July. The usual costume is a blue polo shirt and brown dance pants.
Early Life/Family
[
]
Mike is the last of 12 children, including a sister named Rosalie who briefly took dance lessons and a brother who went to medical school. When Mike was 4 or 5 Rosalie stopped going to the lessons and he gladly took her place. He also remembers his grandmother liked to "lean out the window on her little pillow".
During his adolescence he carried the nickname "Stinky" for three years after an unfortunate flatulence incident, and like other guys on the line would get erections at the most innpportune of moments. He dropped out of school at some point to pursue his dancing dreams of which his parents were not supportive.
The Audition
[
]
Mike's number during "I Hope I Get It" is 81. He is the first to discuss his life after some hesitation ("Don't you wanna start at the end?") and has the show's only male solo with "I Can Do That". When Paul injures his leg, Mike tries to help him before being pulled back. During the Alternatives discussion he is honest in that neither shows or dancer bodies last forever. He is one of the final eight chosen.
In early drafts of the script, Mike had an additional number called "Joanne" about a neighborhood girl he crushed on.
The Movie
[
]
Mike was portrayed in the 1985 movie adapation of A Chorus Line by Charles McGowan. His full name here is Timothy Michael Cassideo Donahue and he was born in 1960, which would make him 25 at the time of the movie's premiere. His performance of "I Can Do That" is constantly intercut with Cassie's flashbacks. His lines from The Montage were removed with the elimination of that number. He remains one of the final eight chosen.
In an early newspaper ad for the movie as archived here, Mike was adopted at birth and initially unable to walk. He does not talk about this during the movie so it is unknown if it could be considered "canon".